How Portfolio Project Management (PPM) Can Improve Your Workflows
Project management is a valuable tool to make sure individual projects fall within their set budgetary and scheduling guidelines. However, there is a level above that. Portfolio project management (PPM) works with all of the projects within an organization; it is the umbrella management over traditional PM.
If your team is juggling multiple projects at once, then you may need to invest in a portfolio project manager or PPM system to help give your staff direction.
What is Portfolio Project Management?
Portfolio project management is the natural evolution of basic project management. As Bob Buttrick, director of Project Workout, puts it: "Directing the individual project correctly will ensure it is done right. Directing 'all the projects' successfully will ensure we are doing the right projects."
Essentially, PPM reviews the strategy of a company's project to make sure everyone is prioritizing the right work and is on the same page for why certain tasks need to get done. The team at Clarizen explains that portfolio project management brings team members together to work toward a centralized goal. They admit that the line between project management and project portfolio management is often blurred, but encourage readers to think of PPM as a high-level role that balances all of the projects within an organization.
To better understand what someone who works as a portfolio project manager does, Sandeep Kashyap, founder and CEO of Proofhub, lists common objectives in investing in PPM. These include:
Maximize value by allocating resources to projects that will have the biggest impact on the organization.
Achieve a balance between various project types, like high-risk/low-risk projects or projects distributed across the teams.
Ensure strategic alignment between the proposed ideas and the goals of the organization.
PPMs juggle resources and input from management for the tasks at hand. It's up to these managers to understand what the company should reach for and what they should wait to attempt. 
The team at Hexagon PPM uses the analogy of a financial portfolio to help you think about balancing multiple projects. As you look at your stocks, you might have some smaller accounts that grow slowly over time. These are important and low-risk. However, you might also balance those accounts with high-risk stocks. The same is true about project management. You likely have important work that needs to get done, but can also divert resources to high-risk/high-reward projects if you think the investment is worth it.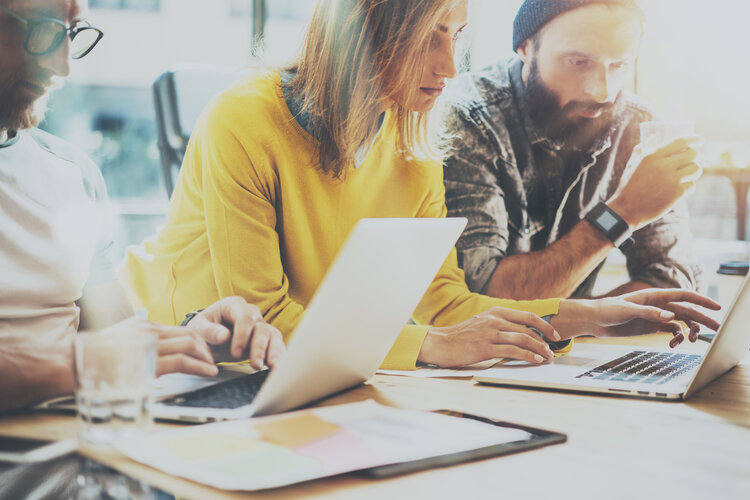 Benefits of Portfolio Project Management
There are some impressive numbers behind companies that implement PPM strategies, which highlight the financial and productivity-focused benefits of PPM. According to Projectric, organizations that use PPM tools are 44 percent more likely to complete projects on time and 38 percent more likely to be on budget than those who don't.
There are also additional benefits your team may experience through implementing PPM that will reverberate throughout your organization.
Increased Visibility
Clarity and visibility are two main components of PPM. Team members can better prioritize their work because they know what the company needs to move forward and be successful.
"In order for organizations to reach the full potential of their digital transformation journey, they need complete visibility into work," says Michael Swan, product management director at Workfront. "With this visibility, people make smarter decisions, focus on high-value work, increase output, streamline their operations, and secure a record of all activity of work, accessible to everyone on the team."
Improved Teamwork and Collaboration
Team members often propose their own agendas and try to prioritize their pet projects. The result is that the loudest voice in the room gets what they want, not necessarily the most deserving. PPM can help alleviate this.
"Without PPM, a bottom-up approach consumes unnecessary resources, neglects the business strategy, and pits projects against each other in a competition that usually only has one winner," according to the team at Meisterplan.
This highlights the social as well as financial challenges of project management without an overarching plan. When employees pit their projects against each other, the professional becomes personal, and those bonds can be hard to form again to work on other projects.
Better Processes in the Future
Jennifer Bridges, PMP, explains that portfolio project management can set companies up for the future because they are better able to document how a project gets done and the resources needed to execute it. By taking a high-level view, you can see past projects and find the top plans that could be applied to new projects and ideas.
You also have clear documentation of what went wrong and the mistakes that you might have avoided in previous projects. In the short run, PPM may seem laborious, but it should lead to smoother operations in the future.
Strategic Guidance for the Organization
The team at TrustRadius explains that a manager's day may be filled with multiple tasks or goals, but these should all tie back to one strategic vision. It is one clear statement that everyone in the company knows. This way, when team members get in the weeds, they can always turn back to the strategic vision.
"Project managers aren't responsible for the strategic side of it all," writes Anna-Kati Pahker at resource planning software provider Ganttic. "Project managers' goal is to complete projects on time and within budget."
It's not up to the project manager to dictate the company strategy. This is where leadership and PPM comes in.
How to Implement PPM Within Your Organization
Many companies understand the benefits of portfolio project management, but lack the training and resources to implement it. There are a few steps you can take to make the adoption process easier and scalable for your team.
Ask the Right Questions of Your Projects
Even before you begin seriously investing in PPM, you can drive support for it by asking the right questions.
Grace Windsor at project management platform BrightWork, has a list of questions teams can ask as they develop their project portfolios. These include whether the group is working on the right projects and if not, which ones should they be working on instead (and how many at one time). The similarity between projects should be assessed as should the current performance of each project.
Asking these questions can guide changes to the portfolio. For example, if teams are working on similar projects, there may be opportunities to consolidate them into one major project to prevent duplicate work.
Start Small and Scale Up
Johann Strasser, managing director and partner at TPG The Project Group, encourages companies testing PPM to start with scheduling and then expand into resource planning.
Scheduling is an easy way to consider how multiple projects overlap and what their timeline looks like. You can get a feel for what it means to balance multiple projects. Then you can consider the costs of the projects and resources (like labor) needed to accomplish them.
An alternative is to start with the most important projects. Jeroen De Flander, strategy execution lecturer at London Business School, calls these "mandatory" projects. They're the ones related to taxes and compliance and legally need to get done. De Flander encourages teams to add strategic projects and projects that benefit the company as a whole to their PPM strategy once it gets off the ground.
You can use your mandatory projects as your base and then challenge yourself with more projects that build upon your complexity. Either way, don't feel the need to launch a full PPM plan overnight. You can build your plan as your knowledge and experience grow.
Set Targets for PPM Adoption
While you can take time to scale out your PPM maturity, it is important to track your growth and set goals to reach specific milestones.
"Organizations that do not periodically assess their maturity and progress toward maturity goals will fail to realize the benefits of project portfolio management," Tim Washington, PfMP, founder of Acuity PPM, says.
Washington cites research by Gartner that finds 80 percent of companies are at a first or second maturity level, meaning the PPM process is done in an ad hoc format or is only developing within the company.
Use Your Management Best Practices
PPM, at its core, is still management. Fred Wilson, agile and software consultant at nTask, explains that once you have your projects listed and aligned, the management process really sets in. This may involve pulling funding from certain projects and giving it to others, or telling some teams that their projects will need to wait until the next fiscal quarter to launch.
In this way, finding funding and time doesn't just involve checking your company's resources. It means figuring out which programs are getting cut and how you can explain that to those team members.
Everyone in your organization likely has projects that they want to move forward and key priorities for their departments. PPM can help you approach these from a high-level, so you can see which projects are most important and which risks just might pay off.
Images by: Aleksandr Davydov/©123RF.com, kantver/©123RF.com, rawpixel, rawpixel