Changing Focus: Design Thinking Results in Meeting Client Needs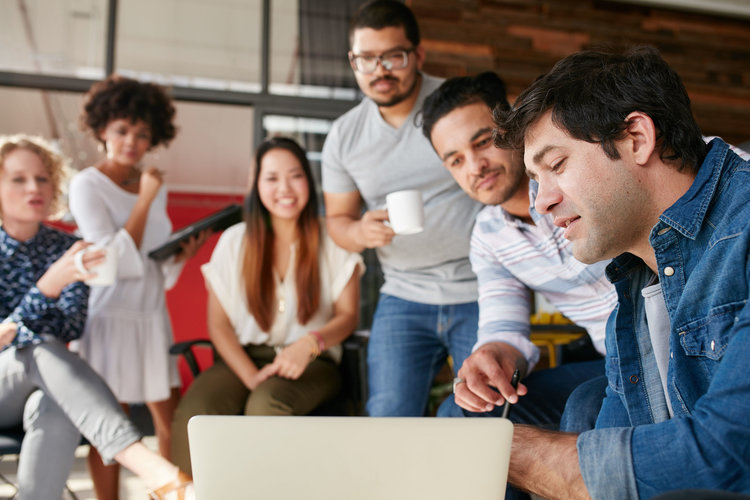 Small businesses and traditional companies alike are embracing the concept of design thinking in problem solving and encouraging employees to push themselves creatively.
In recent decades, creativity, exploration, and failure have been embraced as essential elements of the workplace development process. And this isn't just in fast-paced tech start-ups. Small businesses and traditional companies alike are embracing the concept of design thinking in problem-solving and encouraging employees to push themselves creatively.
Developed by the Stanford d.school, design thinking is a process that focuses on empathy and customer needs to obtain better results. By implementing this school of thought into your project management process, you can create better products and resources for your customers. Keep reading to learn more about this concept and how it is used with project management in the modern workplace.
What Is Design Thinking?
Design thinking is both a way of thought and collection of hands-on methods, Rikke Dam and Teo Siang write at the Interaction Design Foundation.
It requires users to challenge assumptions, redefine problems, and come up with alternative solutions that might not be obvious at first glance. Through strategic thinking and research, participants can come up with better strategies than if they acted on their first instincts.
"This new approach is in large part a response to the increasing complexity of modern technology and modern business," designer Jon Kolko writes at the Harvard Business Review.
With principles like empathy with users, discipline with prototyping, and tolerance of failure, teams can work to understand problems better and test different solutions until they find the best one. Not only does this process improve the finished product, it also helps the culture within the organization.    
Kodak: A Cautionary Tale for Failing to Think About the Customer
Ileana Stigliani, assistant professor of Design and Innovation at Imperial College London, highlights Kodak as an example of what happens when companies reject design thinking.
While the company essentially invented the digital camera, it decided against selling the product because it would take away from the company's film market share. The company, not the customer, was the focus.
Instead, Kodak sat back while the likes of Canon and Nikon took over the photo industry. When Kodak finally debuted a digital camera, it was so expensive that the average family couldn't afford it and it was massively unpopular.
As a result, few kids today grow up knowing what a "Kodak moment" is.
What Are the Main Steps of Design Thinking?
Design thinking might seem like a complex ideology, but is actually fairly easy to test within your organization.
Design thinking might seem like a complex ideology but is actually fairly easy to test within your organization. You can apply these steps to minor activities to get a feel for what the process is like.

Sandra Rodríguez at Make explained the steps for design thinking. It's a great place to start if you're unfamiliar with the process and how to implement it within your organization. The steps include:

Empathizing with your customer and user to understand their pain points and needs through interviews and research.
Defining what you are bringing to the table and why. This step involves clearly explaining the problem, audience and ideal end goals.
Ideating as many solutions as possible to reach the end goal.
Prototyping the better or more plausible ideas. These prototypes are cheaply built and can even be a sketch on paper.
Testing the prototypes with user feedback. This allows designers to see their shortcomings and make changes to accommodate user needs.
The key is to focus your time and effort on the research and empathy stage, and then speed up the ideation and prototype process to spark creativity.

"Gaining insights by rapidly prototyping and testing ideas before developing extensive plans is another way to innovate, learn from mistakes and improve," Lindsay Scott, PMO Learning director writes. "Continuing to develop and foster an environment where people are allowed to question the way it always has been done and take risks has powerful implications."

With this method, questioning the status quo and failure are encouraged. Without that encouragement, team members may be too timid to come up with good ideas or take risks to improve existing ideas.

How Do Design Thinking and Project Management Work Together?
Design thinking and project management are more closely connected than you might think.
Stefan Link, the founder of the design thinking platform Pyoneer, explains that adding design thinking to agile project management is a natural next step to improving the production process.

In the same way that most companies are rejecting the antiquated waterfall method, teams are realizing that they need to conduct customer research and come up with solutions with the user in mind, instead of just creating the easiest possible solution and then adding additional features. In some instances, agile development is the walk before the run step of evolution.

Bill Rowan, marketing manager at DelCor Technology Solutions, highlights some thoughts by Dmitri Khanine on how design thinking should be applied to project management.

The key to success, they both agree, is in the requirements. Business analysts can work to clearly define requirements as teams move forward with their selected prototype. Even during the ideation phase, business analysts can help highlight problems and provide concrete details to some of the suggested solutions.

Adding Design Thinking to Project Management
While the five steps to incorporating design thinking is a good place to start, there are additional steps to follow to ensure success.

Suzanne Davenport at Smart Projex has tips for project managers to follow as they incorporate design thinking into their development processes. These include:

Make sure every person on the team knows why they are a part of the project.
Understand why every person at the table wants to work on that project.
Allow as much self-management as possible.
Provide fair performance appraisals at the end of each project and provide concrete suggestions for improvement.
By following this advice, you can merge design thinking into your project management process without much pushback or confusion from your team.

Project Management Helps Design Thinking
Interestingly, some believe that design thinking actually needs project management to succeed.

The team at Spring2 Innovation explains that without project management, practitioners of design thinking can get too caught up in the creative process and struggle to move forward with development. Experienced project managers will know when to move ideas forward from design to execution.

Ed Hadley at Vade Secure agrees. He says too many projects in enterprise-level companies never make it out of the prototype stage. While the ideas are there, risk-averse leaders never approve them. Alternatively, teams might lack the proper DevOps infrastructure to move a project forward with the right management. Design thinking and project management work hand-in-hand.

Design Thinking Can Be Used in a Broader Business Sense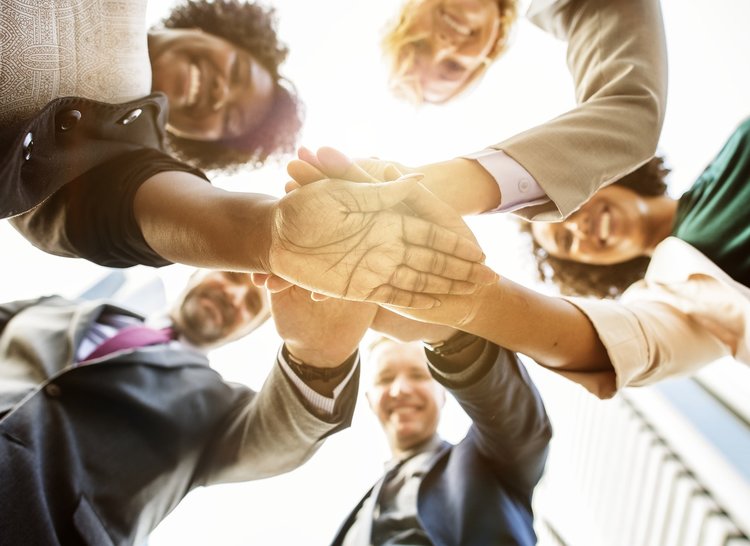 Even if you don't apply design thinking to your project management strategy just yet, you can use it to run better meetings and establish a healthier workplace culture.
Even if you don't apply design thinking to your project management strategy just yet, you can use it to run better meetings and establish a healthier workplace culture.
In an article for Harvard Business Review, Maya Bernstein and Rae Ringel present three sets of questions that you should ask in the design thinking process in order to develop empathy for customers, clients, and co-workers:
Who is going to be in the room and what are their needs?
Who won't be in the room but will still be affected by the meeting — and what are their needs?
In what culture and environment are you operating and what are some of the related challenges and opportunities?
These questions are meant to take the "me" out of meetings. Instead of going in with your own agenda and goals, you focus on the people you can help. Before the meeting, employees are encouraged to meet with affected individuals and speak to them about their concerns and needs, so they can be heard or represented during the discussion. This has nothing to do with project management but allows employees to think in a different way.
"Design thinking can be applied to product development, service development, process design, and remakes and even life decisions about your career," Dan Fogel, CEO of SP3, says.
You learn to think with empathy and come up with multiple solutions until you find one that provides the greatest positive impact. You may even find yourself employing design thinking in your personal life.
Drawbacks to Design Thinking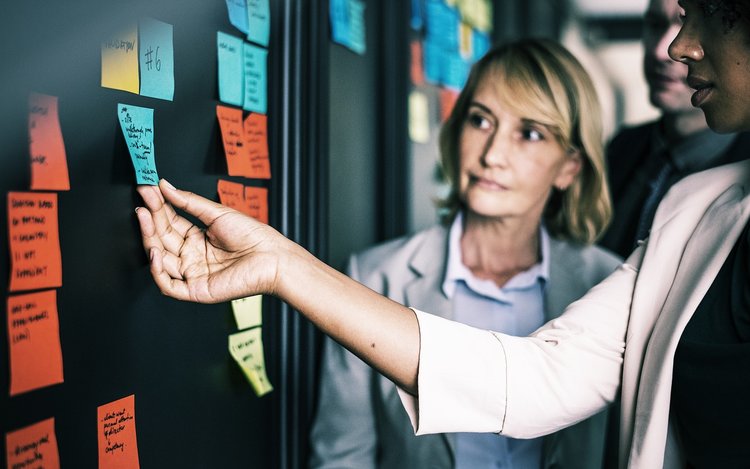 Design thinking might not be the right solution for every occasion and project managers need to be careful when using it.
While design thinking is touted as a popular option by many, it's not the right solution for every occasion, and can have its drawbacks if project managers aren't careful.
Tech writer Ailsa Sherrington says design thinking can put creatives in a box when it comes to problem-solving. Most companies end up following the design thinking process so closely that there's never any chance for creative or unique thoughts.
At its core, design thinking is meant to create channels for creative flow, not force employees to think a certain way. "If you want employees to use innovation in order to drive results, you have to realize that there are literally no rules to the process," Sherrington writes at The Next Web.
Learn More About Design Thinking
There are a few options if you want to learn more about design thinking and talk to others who are interested in it.
The Accidental Design Thinker curated a list of 2018 conferences around the world that focus on design thinking. These conferences help beginners learn more about the concept and allow more advanced design thinkers learn how to better implement their strategies. The conferences are sorted by location, so you can find one near you.
Additionally, Jenny Theolin at Hyper Island lists 24 books, recommended by a panel of design thinking experts, all of which focus on design thinking and boosting creative thought. Reading a few might inspire you and your team to think differently over the next few months.
Images: ammentorp/©123RF Stock Photo, kantver/©123RF Stock Photo, rawpixel